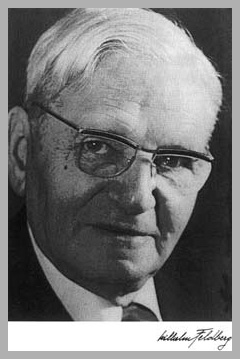 Wilhelm Siegmund Feldberg
CBE, FRS MD Berlin; MA Cantab; FRS 1947; FRCP 1978
19th November 1900 - 23rd October 1993
Professor Feldberg was born in Hamburg in 1900 and went to school there. He studied medicine, pre-clinical in Heidelberg and clinical in Munich. During his last years of study he started research at the Physiological Institute in Berlin, during his holidays.
After qualifying in 1925 he married the daughter of art critic Karl Scheffler and then went to England for two years to work under the late Professor Langley. Subsequently he worked under the late Sir Joseph Barcroft, and then under the late Sir Henry Dale. He became a Privat Dozent at Berlin University in 1930, and when forced to leave in 1933 was invited by Sir Henry Dale to work with him at the National Institute for Medical Research, London.
In 1936 he went on a grant to the Walter Eliza Hall Institute in Melbourne, Australia and worked in the department of the late Charles Kellaway. In 1938 Professor Adrian, later Lord Adrian, offered him a Readership in Cambridge, and from 1938 to 1949 he taught and did research there.
He then accepted the position of Head of the Division of Physiology and Pharmacology at the National Institute for Medical Research, London, formerly Sir Henry Dale's department, and remained Head of the Division until his official retirement in 1965.
The Medical Research Council then established a new department for him at the National Institute for Medical Research, the Laboratory of Neuropharmacology. In 1978 the laboratory was closed down, and Professor Feldberg was awarded an MRC Grant to continue working in the Division of Physiology and Pharmacology, where he continued to work until the late 1980's.
His early work mainly concerned histamine, acetylcholine and 5-HT. Whilst in Germany he worked on the role of the liver in histamine shock in different species. In Australia (1935-1938) he worked mainly on the action of snake venom. In Cambridge (1939-1949) he worked on the synthesis of acetylcholine. During his years at the National Institute for Medical Research his work mainly concerned pharmacological studies on the central nervous system.
Renowned both for his research and teaching, Wilhelm Feldberg's research career of more than sixty years produced a prodigious output of 354 scientific papers.
In 1961 Professor Feldberg used the restitution money he received from the German Government, and the pension he was given as Emeritus Professor in Germany to establish the Feldberg Foundation.
Professor Feldberg died on 23 October 1993, London, aged 92 years